Home


The ride in Feldborg has existed since 2010 where Patricia H. Pilborg in collaborance with Sevel Rideklub hosted the first ride. The ride is normally to take place in the beginning of March.
Since 2010 the ride has been held annually, and hosted in 2013 the regional championship and in 2012 the ride expanded with a Christmas Ride – cosy and informal in the beginning of December. Here it's Christmas everywhere – every equipage must be dressed out for Christmas and during the prize giving there's traditional Danish glögg and Danish doughnuts for everybody.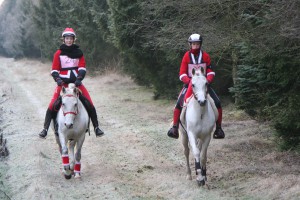 Autumn 2015 was the beginning of coworking with VEST – a riding club based primarily on riders who loves terrain riding, endurance or TREC.
November 2015 the "Christmas Ride" was given the prize for "Ride of the Year" – for which we are very proud and happy!
March 2016 is the anniversary of the 10.th ride in Feldborg and also the first time we host an international endurance competition in FEI regi.
Welcome to the ride – we are happy to see you!